Employee income is one of the most important aspects of being approved for a mortgage. Lenders will qualify you for the mortgage based on your income, your debt, and your down payment. In this blog post, I thought it would be a good idea to discuss how lenders see income.
Whether you're full-time, full-time salary or part-time, your income levels will be calculated differently. I will give an example for each situation for you to see what the lenders will see. 
How Lenders See Income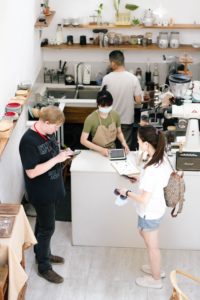 Full-time, hourly, 35-40 hours per week.
Let's start with a regular 40hr/week employee who is past their 3-month probationary period. The bank will view your income as such if you are full time:
Pay rate ($25 per hour) x Full time hours (35-40) x 52 weeks = $52,000. 
$52,000 is what the bank will use as your income, assuming you are guaranteed full-time hours and are not on probation.
Full-time, salary.  
Next up is a full-time salary employee. It's the same calculation, but a little simpler: 
Pay rate ($2500 a month) x 12 months = $30,000. 
$30,000 is what the bank will use as your income. 
Employees who receive commission and bonuses. 
For employees with a bonus or commission plus structure, there are a few ways the banks can view your additional income. It's important to note that, in almost all cases, the lender wants a minimum of two to three years of you earning that bonus or commission.
The most simple way a bank will calculate your extra income is by your last two years' tax returns. This is usually done by adding line 150 or your personal notice of assessments and dividing by two or three years.
Guaranteed full time income of $52,000 + average of last 2-3 years of bonus income ($10,000 + $15,000 / 2) = $64,500. 
$64,500 is what the lender will use as your income. 
Part-time employees, not guaranteed. 
For employees who are part-time, the bank will want you to be at your job for a minimum of two years if you are not guaranteed your hours. They will view your income as your last two years' notice of assessments or T4's and divide that by two.
$20,000 part time 2019 income and $25,000 2020 part time income divided by two = $22,500.
$22,500 is what the bank would use as your income. 
Part-time with guaranteed hours. 
If you are a part-time employee but are guaranteed hours, the lender will use the same calculation as a full-time employee.
Guaranteed hours (20) x pay rate ($15) x 52 weeks = $15,600.
$15,600 is what the bank would use as your income.
Helping you understand employee income. 
Income calculations can be tough to understand, especially if your income isn't always guaranteed or you work with bonuses and commission. I'm here to help with that! 
Not every bank views income the same way. If you get declined by one bank due to your income, a mortgage broker, like myself, may be able to get you approved at another bank simply by viewing and seeing your income differently.
I hope this helps if you're an employee and looking to qualify for a mortgage. If you have any more questions, don't hesitate to reach out and we can go through your situation together. You can call me at 250-826-3111, fill out a pre-approval application on my website or get started below. I look forward to hearing from you and helping you qualify for a mortgage.